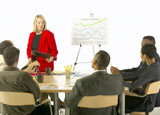 Develop the
Sales Team

Click Here to find out more
.
Managing the Business Winners
This is Radian's acclaimed Management Programme designed to create Business Winning Strategies.
There are challenges in managing and directing Business Winners and delivering performance improvement programmes. Managers are faced with growing and maintaining the customer base with sustainable profitable revenues.
Sales Management
Some current business issues:
The need to develop a winning strategy which will deliver the financial targets – perhaps imperatives – of the business
How to integrate a Marketing Strategy with effective Sales Plans
Recruiting and building effective self managing teams
Creating a winning culture and motivated team
The challenge of developing appropriate management styles to manage today's Business winners
Sales, Marketing and Business Development Managers in Industry, Services and Professions need to have a wide range of management skills. They also need to lead and energise their Business Winners, direct the Team and deliver the numbers.
Radian's Managing the Business Winners Programme USP's:
Integrated Strategic Marketing and deliverable Sales Plans
Designed to 'deliver the numbers'
Recognises Business Winners need to be respected, coached and supported
Shows how to measure, monitor, coach, direct the Business Winners – measure the ROI
How to develop and manage the revenue pipeline and forecast future revenues
How to work effectively on sales trips and run effective team meetings
Managing the Business Winners - Features and Benefits
Radian Twin Strategy Model

Translates financial targets into deliverable 'Quality Job Tasks'

Sector Marketing and Selling
'90 Day' Sales Plans

Translates your business winning strategies into Action
Managing a Team of Business Winners is a difficult, challenging and hugely enjoyable job. The responsibility of winning business for your organisation is the top responsibility in business. Without the revenue line nothing else can happen in a business. There is no 'bottom line' without a 'top line'. The men and women who lead the Business Winners are the top people. This programme develops them and keeps them at the top of their Professions.
For more information on Directing and Managing Business Winners and Business Development in Construction please call us on 0044 (0) 1953 601515 or e-mail us at info@radiansystems.co.uk.