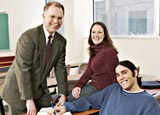 Much more
than a Training & Development Programme
Click Here to contact us.
Business Winners™ for the Sales Team
This is Radian's Training and Development Programme for Sales Teams. The Programme provides team members with a unique range of skills. Reliable frameworks that develop confidence also develop long-term relationships with customers. The Business Winners Programme works for sales teams and business people at all levels who need to win business for their organisations.
Some current business issues:
Businesses need to have sustainable, profitable revenue lines
Today's Professionals need a Development Programme which connects their customers, their own skills and their targets
The need for the Business Winners Team to be part of the Strategy for developing and retaining business
The need for innovative, intelligent and sensitive ways of measuring sales performance
The need to provide real genuine value to customers and to manage customers effectively
There is a big change in how sales teams work. We like to call them Business Winners. These are the people who win business and deliver the top line for their organisations. Attitudes and values have changed. No more hard driven selling – only hard work and committed professionals.
Much more than a Training and Development Programme
Radian Business Winners™ USP's:
Customer Base Management and Strategy

A business development programme designed for Construction Industry specialists
This is a practical, deliverable programme which works in today's business culture
A training programme that respects the business winner and the customer
A development programme which is in tune with the dynamic changing nature of construction
Radian Business Winners™ - Features and Benefits
Modular Programme

It can be designed specifically for your business or professional group

Strategic Selling

Translates financial targets into deliverable actions

Sector Selling

Recognises sector differences – creates sector champions

Selling by Objectives

How to deliver achievable yet challenging objectives

90 Day Plans

How to create achievable, measurable, innovative sales plans
For more information on Business Winners for the Sales Team and Business Development in Construction please call us on 0044 (0) 1953 601515 or e-mail us at info@radiansystems.co.uk.